Think Tank Forum
Under the background of vigorously developing metropolitan area and urban public transport system in China, cities in China are facing the development opportunities of new urbanization, new industrialization and new transportization. They are also facing many problems and challenges such as the rapid increase of urban population, private car, and severe environmental pollution. To deeply analyze the traffic management policy problems of Beijing, draw lessons from the experience of urban traffic development at home and abroad, and discuss the countermeasures for sustainable urban traffic development, it is necessary to organize stakeholders such as the government, industry and academic researchers at home and abroad to discuss the sustainable urban traffic development issues, form operable think tanks and to promote our cities and promote the sustainable development of modernization in China.
The first "Sustainable Development for Urban Transport" High-end Think Tank Forum will be organized at the 7th International Conference on "Transportation and Space-time Economics" held at Beijing Jiaotong University in the morning on October 12, 2019. The forum is sponsored by Beijing Jiaotong University and co-sponsored by Beijing Transport Institute. The forum invites governments and associations, enterprises,national think tanks,academic institutions and universities,famous academician in the world,editor-in-chief of international journal of transportation research,famous transport economists at home and abroad,and news mediato have a deep discussion, focus on the theme of "Sustainable Development forUrban Transport",and buildan integrated think tank platform for government, industry, institutes and university. The aim of the forum is to provide suggestions for the economic and social development of Beijing, the transportation in Beijing-Tianjin-Hebei metropolitan area, and the urbanization of China and the sustainable development of transportation in large urban areas.Participants from all walks of life are welcome to participate in the forum.
Forum modules
The forum includes three modules as following:
Government module: Synergy • Green • Inclusive • Leadership, Promoting the Sustainable Development of Transportation
Enterprises module: Technology • Intelligence • Sharing • Innovation, Promoting the Construction of Transportation Platform Carriers
Academic module: Frontier • New Knowledge • Countermeasure• Exploration, Promoting the application of ICT, AI and Innovative Technology
List of participating units
Government and Associations:
Ministry of Transport of the People's Republic of China
National Railway Administration of People's Republic of China
Beijing Municipality
Beijing Municipal Commission of Transport
Beijing Traffic Management Bureau
China Transportation Association
Chinese Society of Technology Economics
China Railway Society
(to be updated)
Famous Academician in the World
Anthony May, Academician of The Royal Academy of Engineering
Yongfu Sun, Academician of Chinese Academy of Engineering
Jingwen Li, Academician of Chinese Academy of Engineering
(to be updated)
Enterprises
Gaode Navigation
Baidu Map
DiDi
Mobike
Guanzi Network
Manbang
CAR Inc.
Shouqi Limoshine & Chauffeur
Yinjian Taxi
Didachuxing
China State Railway Group Co.,Ltd.
Beijing Subway
Jingtou Corporation
Beijing MTR
Beijing Public Transportation Group
China Air Express
(to be updated)
National think tanks
Development Research Center of the State Council
Beijing Philosophy and Social Science Planning Office
Beijing Institute of Integrated Transport Development of Beijing Jiaotong University
Institutions and Universities
Institute of Comprehensive Transportation of National Development and Reform Commission
Beijing Transport Institute
Beijing Urban Engineering Design &Research Institute Co.,Ltd
China Academy of Transportation Science, Ministry of Transport
Transport Planning and Research Institute, Ministry of Transport
China Waterborne Transport Research Institute
Tsinghua University
Peking University
Beihang University
Beijing Jiaotong University
Chongqing Jiaotong University
Southwest Jiaotong University
Lanzhou Jiaotong University
Chang'an University
Beijing Union University
(to be updated)
Editor-in-chief of International Journal of Transportation Research
Frank Witlox, EIC of Journal of Transport Geography, Ghent University (Belgium)
Tae Oum, EIC of Transport Policy, University of British Columbia
Juan de Dios Ortuzar, Co-EIC of Transportation Research Part A: Policy and Practice, Pontificia Universidad Catolica de Chile
Chandra Bhat,EIC of Transportation Research Part B: Methodological, University of Texas
Yafeng Yin, Editor-in-Chief of Transportation Research Part C: Emerging Technologies, University of Michigan, Ann Arbor
Jason Cao, Editor-in-chief of Transportation Research Part D: Transport and Environment,University of Minnesota
Qiang Meng, Co-Editor-in-Chief of Transportation Research Part E: Logistics and Transportation, National University of Singapore
Samuel George Charlton, EIC of Transportation Research Part F: Traffic Psychology and Behaviour, University of Waikato
Famous Transport Economists at Home and Abroad
Chaohe Rong, Beijing Jiaotong University
Jian Zhao, Beijing Jiaotong University
Anming Zhang, University of British Columbia
Erik Verhoef, VU University Amsterdam
Werner Rothengatter, Vienna University of Technology
(to be updated)
News Media
Beijing Communication Radio
China Daily
Economic Information Daily
QQedu
China MBA Education Network
Hezhao News
China Education Press Agency
China Science Daily
China Communications News
China Radio International Online
Youthzqw
(to be updated)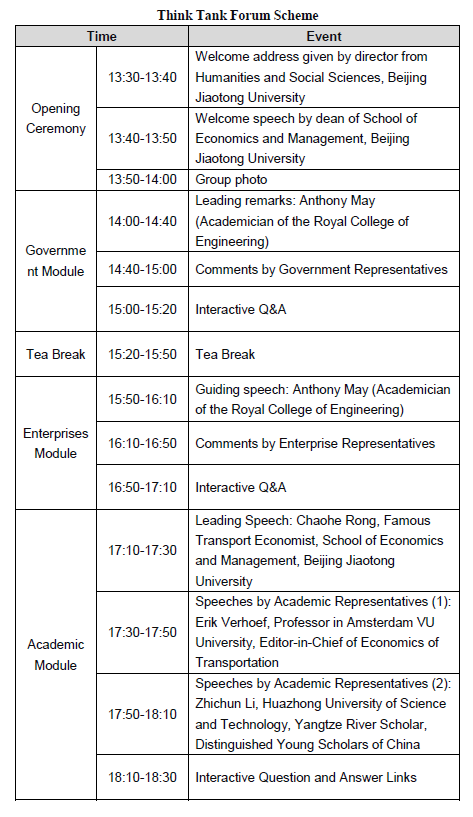 ‍